ERBIUM LASER SANTA BARBARA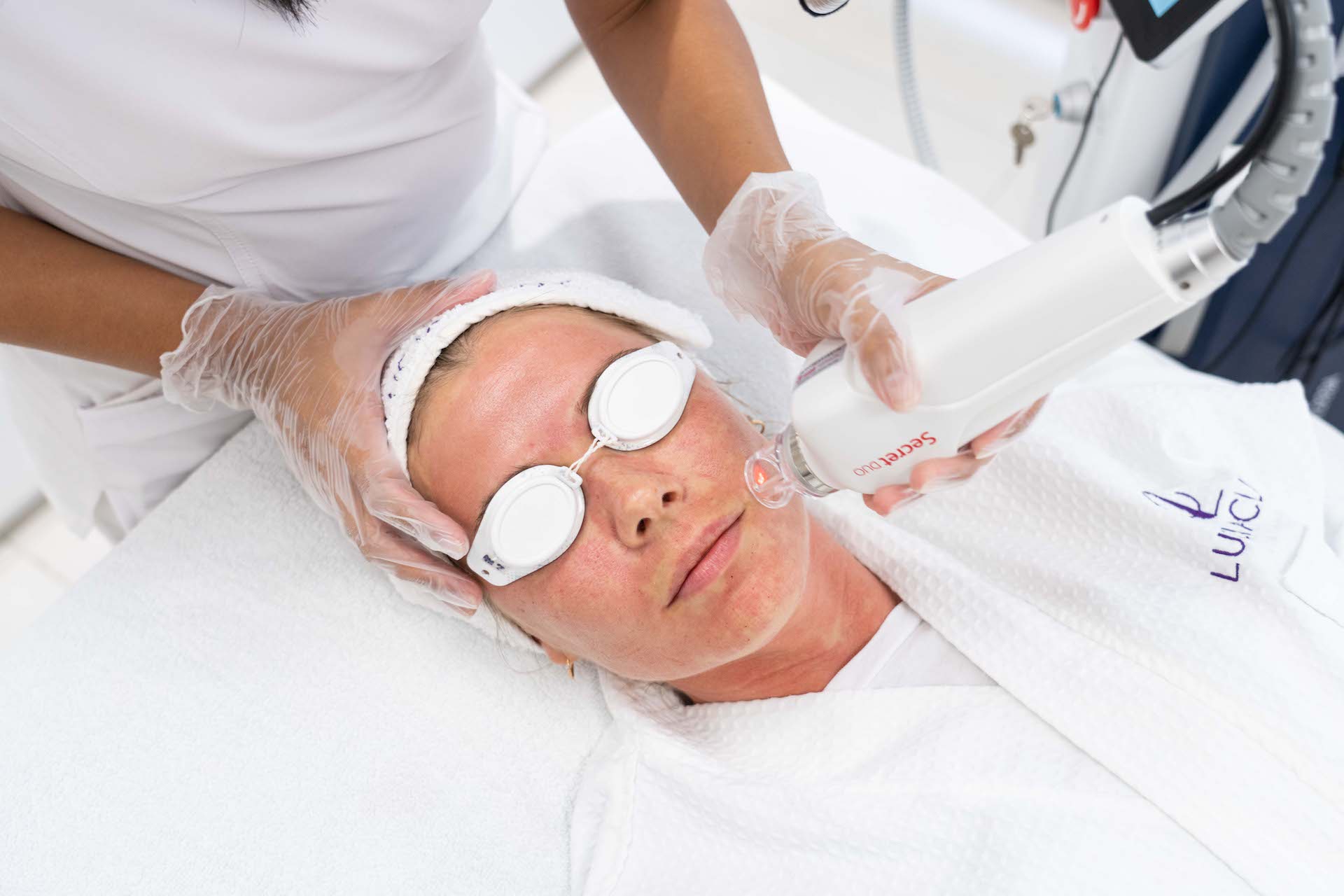 ERBIUM LASER SANTA BARBARA – SKIN TIGHTENING – LASER RESURFACING – WRINKLE TREATMENT
What is the Cynosure Icon 2940 Erbium laser?
The Cynosure Icon 2940 erbium laser Santa Barbara is an advanced fractional ablative laser specifically designed to target and treat wrinkles. By stimulating collagen production and resurfacing the skin, it effectively reduces the appearance of fine lines and wrinkles. With minimal downtime, it offers significant results in just one treatment session, making it a popular choice for efficient wrinkle reduction. Consulting with a qualified professional will determine the best treatment plan based on individual needs and skin condition.
Benefits of Fractional Ablative Skin Resurfacing
Fractional ablative skin resurfacing provides numerous benefits for individuals seeking skin rejuvenation. The treatment creates multiple micro-thermal (heat) zones that vaporize the outer layer of the skin, stimulating collagen production and promoting the skin's self-healing process. This leads to significant improvements in the appearance of acne scars, deeper wrinkles, and hyperpigmentation. Unlike traditional ablative treatments, fractional ablative resurfacing offers potent results with minimal side effects and downtime, making it an efficient and effective option for restoring skin health and vitality.
The Cynosure Icon 2940 Erbium Laser Santa Barbara
The Cynosure Icon 2940 laser is an FDA-cleared, state-of-the-art technology that revolutionizes skin rejuvenation. It is designed for highly efficient and comprehensive treatments, proven to reverse visible signs of aging, scars, and hyperpigmentation caused by photo damage. The Cynosure Icon 2940 laser is also the first FDA-cleared laser for stretch mark treatment. Patients can experience dramatic results with this one-time treatment while enjoying minimal downtime, making it an attractive choice for those looking to achieve remarkable skin improvements.
Conditions Treated by Fractional Ablative Skin Resurfacing
The versatility of fractional ablative skin resurfacing allows it to address a wide range of skin conditions effectively. This includes fine lines and wrinkles, crow's feet, sun damage, marionette lines around the mouth, acne scars, hyperpigmentation, birthmarks, benign skin growths, large pores, uneven skin texture, scars, and overall skin tone. The treatment's ability to target various problem areas makes it an all-encompassing solution for individuals seeking comprehensive skin rejuvenation and enhancement.
Comparison: Ablative Cynosure Icon 2940 vs. Non-Ablative Cynosure Icon 1540
Distinguishing between the ablative Cynosure Icon 2940 and the non-ablative Cynosure Icon 1540 reveals significant differences in strength and treatment approach. The fractional ablative laser, such as the Icon 2940, is more potent compared to its non-ablative counterpart, the Icon 1540. With the fractional ablative technology, patients can experience noticeably improved skin texture and tone with just one treatment session. It is specifically designed for correcting moderate to severe photoaging, making it an ideal choice for individuals seeking substantial and long-lasting results in a single session. Conversely, the non-ablative Cynosure Icon 1540 is a milder laser that addresses mild to moderate skin damage. Typically, patients require three treatments, and the downtime is minimal, making it a preferred option for those seeking a less intensive approach.
The Procedure: Fractional Non-Ablative Laser
Fractional Non-Ablative Laser is performed using an ablative erbium Fractional laser under topical anesthesia. During the treatment, patients may experience a sensation similar to having a rubber band lightly snapped on the skin or a mild sunburn. The procedure is generally well-tolerated and aims to address various skin concerns without the need for extensive downtime.
Downtime and Aftercare
After a fractional non-ablative laser treatment, patients can typically return to their normal routine within approximately 5 days. While some temporary swelling and crusting may occur following the treatment, a personalized post-laser skin care routine recommended by Dr. Sheffield ensures optimal results. This aftercare routine is essential for maximizing the benefits of the treatment and helping patients achieve their desired skin rejuvenation goals.
Click below to learn more about the erbium laser and other Aesthetic procedures.
Whether you are thinking about having erbium laser Santa Barbara treatment, an aesthetic treatment, a non-surgical procedure or have had prior surgery and are seeking additional touch-ups, it is critical to work with a skilled plastic surgeon that specializes in facial procedures. Dr. Robert Sheffield is a board-certified facial plastic surgeon at SB Aesthetics offering services to those in Santa Barbara, Santa Maria, San Luis Obispo, Oxnard and Ventura, CA, and the surrounding communities. Dr. Sheffield offers patients a customized treatment plan and is available to answer your questions. To schedule a consultation, call 805.318.3280 today.